The Last Pearl Fisher of Scotland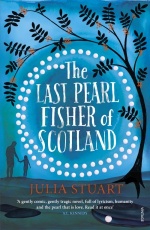 Synopsis
This is the story of one's man quest to find a pearl, save his marriage – and track down a missing rabbit named Frank.
Brodie McBride is having a tough time.
The last expert in the ancient art of pearl fishing, he's on a quest to track down the pearl that will compete a necklace for his wife, Elspeth, convinced that the love token will save his marriage.
But Scotland's rivers are running out of mussels, Elspeth is running out of patience, and their daughter, Maggie, is running wild with her moustachioed pet rabbit.
When Maggie takes matters into her own hands, determined to keep the family together, the McBrides are soon at the centre of an international commotion that will change everyone's lives forever.
Praise
"The Last Pearl Fisher of Scotland is a gently comic, gently tragic novel, full of lyricism, humanity and the pearl that is love. Read it at once."
— A. L. Kennedy
In the Media
Availability
UK

ISBN-10: 1784704296
ISBN-13: 978-1784704292
Where to Buy