The Pigeon Pie Mystery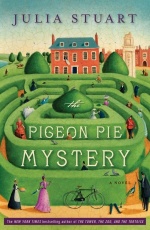 Synopsis
Following the scandalous death of her father, the exuberant Maharaja of Prindur, Princess Alexandrina, who is accustomed to a lavish life of wild spending, discovers she is penniless. To make matters worse, the princess, who is nicknamed Mink, learns her father was given a loan from the Government to pay off his debts on the condition that the house she lives in be sold upon his death.
Queen Victoria saves Mink from certain ruin, granting her a grace-and-favour home in Hampton Court Palace in recognition of her regard for the late Maharaja. Though it is rumoured to be haunted, the strong-willed princess and her superstitious maid, Pooki, have no choice but to steel themselves and accept the sovereign's offer.
Aside from the ghost sightings, at first Hampton Court Palace doesn't seem so bad. Mink is soon befriended by three eccentric widows who invite her to a picnic held in the gardens, for which Pooki bakes some pigeon pies. But when the palace's most reviled resident, Major-General Bagshot, suddenly dies after eating one, Pooki becomes the number one suspect in a murder investigation.
Mink isn't about to let her faithful servant hang. As the clock is ticking, she begins an investigation of her own and discovers Hampton Court isn't so peaceful after all. Everyone seems to have a motive for offing the Major-General. But who did it? Was it William Sheepshanks, the Keeper of the Maze, about whom Bagshot complained for letting people in after-hours to earn a few extra pennies?
Was it Lady Montfort Bebb, who blames the dead man for making her the butt of a humiliating practical joke?
Or could it be the Major-General's house guest, the suspicious American palaeontologist, who is secretly studying the new ghost sightings?
Everyone is hiding a secret of the heart, and even Mink may not realize that she's caught in a maze of love.
Praise
"Stuart combines vivid historical detail, layers of intrigue, and plenty of humor in this intelligent mystery that will appeal to Agatha Christie fans as well as those who enjoy G.M. Malliet and C.S. Challinor."
—Booklist
"Quirky characters, a feisty protagonist, a clever mystery and the requisite historical tidbits combine for an amusing read."
—Kirkus Reviews
"Fans of Stuart's novel The Tower, the Zoo, and The Tortoise will find the same wit on display."
—Publishers Weekly
"This mystery is a delicate yet kooky romp."
—Oprah.com, selected as a Book of the Week
"The Pigeon Pie Mystery serves delicious slices of Victorian England."
— The Washington Post
"To create a comic mystery, one needs little more than a sense of humour. But to write one that succeeds on multiple levels, one must also have insight into humanity and a generous heart. Julia Stuart possesses those attributes in abundance, and they pay off handsomely in "The Pigeon Pie Mystery," her third novel. With the wit of P.G. Wodehouse, the cunning of Agatha Christie, the tartness of Angela Thirkell and the Schadenfreude of Ruth Rendell — as well as her own startling originality of imagination — Stuart has blessed readers with a novel that's endlessly entertaining and ultimately tender."
—The Richmond Times-Dispatch
"The enchanting aspect of Julia Stuart's confections of books about English legends is that she does her historical homework, then tarts it up to poke the aristocracy in the eye."
—The Washington Times
'An Unputdownable Mystery'
—Oprah.com
'A Compulsively Readable Mystery (for the Crazy-Smart Reader)'
—Oprah.com

In the Media
From the blog
Availability
USA

ISBN-10: 0385535562
ISBN-13: 978-0385535564

UK

ISBN-10: 0385535562
ISBN-13: 978-0385535564
Where to Buy
USA
UK
Unabridged audio download